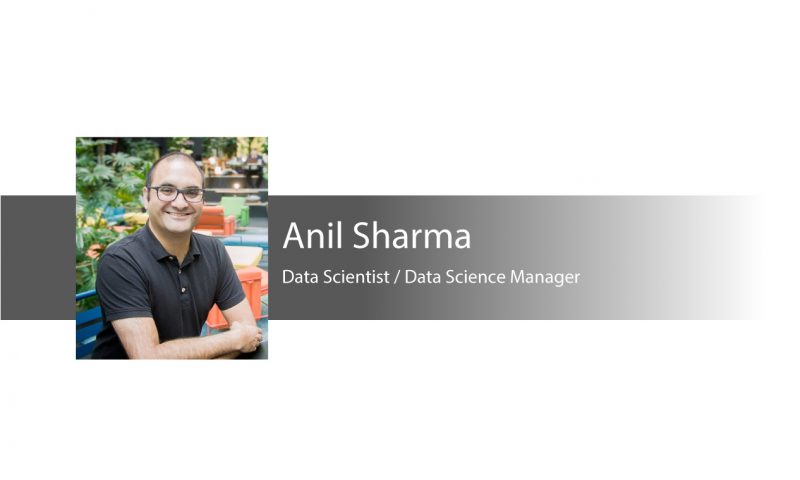 "I solve interesting puzzles every day" – Career path of Anil Sharma
Name: Anil Sharma
Did PhD at: University of Western Australia, Australia
Position at time of interviewing: Data Scientist, H&M, Sweden
Position at time of publishing on blog: Data Science Manager, Klarna, Sweden
Interviewed and written by: Moa Stenudd, Feb-Mar 2020
Disclaimer: this interview was performed and written in February-March 2020, and since then Anil has been headhunted to another company. The following text is the original interview material and reflects the state in spring 2020.
Anil Sharma works as a Data Scientist at H&M. He works on personalization. For instance, he might analyze customer data to target the right audience for an e-mail advertisement, or find patterns in customer behaviors that can be used to tailor the H&M website so it shows products that each user is actually interested in rather than a standard view for all.
Anil defended his PhD dissertation in the field of neurobiology at the University of Western Australia in 2012, and moved to Sweden for a postdoc not long after that. During his postdoc, Anil focused on analyzing the RNA content in single sensory nerve cells to explore how they were different from each other. Through this experience, he realized that his interest lied in analyzing data, rather than generating it. This realization grew into the decision to change his career path and move into data science.
Once he made the decision, he started taking online courses and applying for jobs. "The hardest part was to find someone who believed that I could do it, someone that would hire me", he explains.
After numerous applications and interviews, Anil started his first job in data science working for a consultant firm in 2017. As a consultant, he gained experience from many different industries in a short time. The drawback, he says, was that he often worked alone. After about 2 years as a consultant, he moved on to work as a data scientist for H&M. There, he works in a cross-functional team of data scientists, business analysts, and developers – which is something he appreciates. The collegial support helps the team members learn and solve problems faster.
" I am happy that I found this path."
Anil Sharma about his career as a Data Scientist
Anil explains that the collaborative work environment as well as fast-paced problem solving are things he really appreciate in his new career path, compared to academia. "I solve interesting puzzles every day", he says.
Each morning, the team Anil works in has a 15 minute briefing. All team members brief their colleagues on what they are working with, and if they have run into any problems. That way, colleagues that may be able to contribute to each other's progress can meet up and discuss it in-depth later in the day. The rest of the day mostly consists of programming for data analysis. Anil and another data scientist work together, continuously discussing and reviewing each other's code throughout the day.
Despite not using his knowledge on nerve cells much in his day-to-day work, Anil explains that his research background, and specifically his experience in setting up his own experiments to collect data, is asset in his work as a data scientist. "I am always suspicious about data.", he says.
Moa Stenudd, 2020
---
Image: Subject's own, with subject's approval
This career portrait was originally written for the PhD course "Career skills for scientists", organized every spring by KI Career Service. As explained in the introduction post, all participants in the course interviewed PhD holders with an academic or a non-academic career. Keep an eye on the tags #careerportrait, #InsideAcademia and #OutsideAcademia listed below, for a selection of these portraits. Get inspired and learn more about your options for your post-PhD career!
---