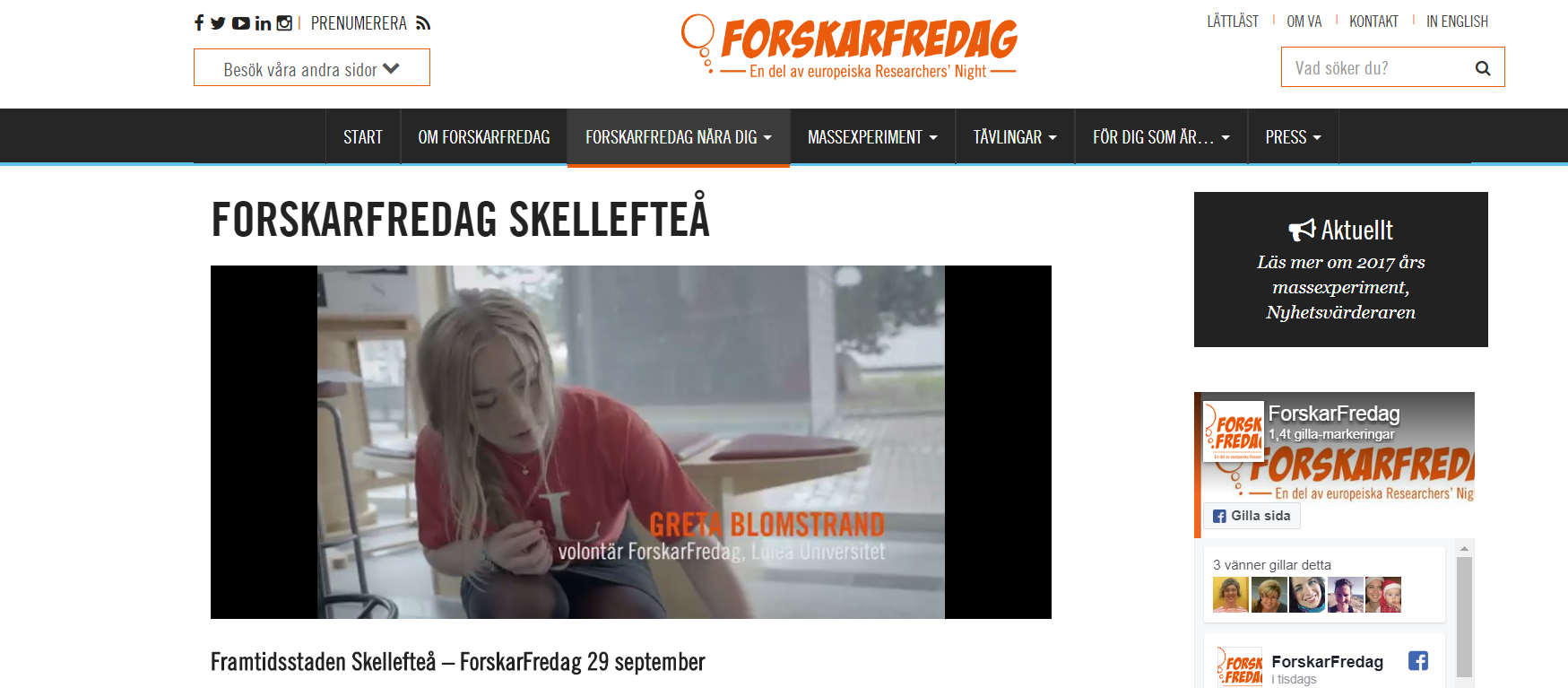 Scientist in disguise…
Guest blog post by Giulia Gaudenzi, PhD student and participant in the course Career Skills for Scientists and the internship program for PhD-students. In September/October 2017 she did an internship with "Vetenskap och Allmänhet".
"In 1700, in Western Europe, there were some 400 different kinds of jobs you could choose from. Nowadays, there are approximately 500,000". This is a quote of my favorite weekly read of contemporary philosopher and author Alain de Botton's School of Life. Since academia hasn't pretty much changed its structure since 1700 and can't accommodate the overflowing number of Ph.D. graduates I decided to join KI Career Office's course to learn what are other opportunities for me, as a graduating student, outside the academic realm.
I confess that adventuring outside what is for me the well-known academic nest gives me slight anxiety. Can I do something else? Will those publications be worth it out there? Will they get I have not just played around with test tubes for all these years? These are just many of the questions that buzzed in my mind prior starting the course. On top of that, as academic, we often float in an international bubble, where English is the dominant language and where we are not necessarily familiar with the different local job opportunities or often lack the local network.
Career Skills for Scientists – a doctoral course and an intenship opportunity
When I joined the KI career's course I was determined to overcome my doubts, learn to write a good CV that reflected my skills, expand my local network, master my Swedish and train for job interviews. And so I did! Through the course, I joined an internship at Vetenskap & Allmänhet (V&A), an independent Swedish non-profit that promotes dialogue and openness between researchers and the public. The NGO is located in Stockholm's vibrant city center, and it's composed of an interdisciplinary mix of science journalists, scientists, and communicators. They are engaged in many local and European projects, including studies, public engagement activities and advocacy work.
The internship experience
During my four weeks at V&A, I had the chance to be exposed to different EU projects, experience diplomatic and advocacy work in Sweden, master my Swedish and train intercultural competences by receiving a delegation from Beijing, China. One of my favorite assignment was visiting the city of Skellefteå in the northern part of Sweden during the European's Researchers Night (in Swedish: ForskarFredag) to produce a short documentary about the day. I loved the experience, and through my short film I was able to convey the enthusiasm of the participants and the importance of the event both from a local and European perspective. I also had fun to be a "scientist in disguise" experiencing the event myself by interviewing scientists, visitors and even be a spectator in a science theater for the younger audience. Overall, I wouldn't have been able to adapt to the internship so fast, if I didn't have the experiences I've accumulated during my Ph.D. studies and I could understand what competences I lacked and should acquire to improve my skillset.
I highly recommend soon-to-be doctors to join the course and apply for the internship. It's refreshing to see your skills used for something else than your Ph.D. work and lower the anxiety for the job search moment. I can't wait to graduate now and see what is out there!
Link to my video: https://forskarfredag.se/skelleftea/
More information on "Vetenskap och Allmänhet"
PS. The internship program is part of the course Career Skills for scientists, which is open for applicants 15 October- 15 November 2017.