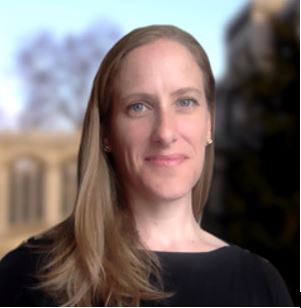 Even though Liisa van Vliet spends most of her time at a lab in Cambridge, sees world-famous scientists passing by almost on every-day basis and is immersed in the all about science vibe, she considers herself to be not a typical academic despite writing grants, supervising students and writing papers. And this makes her position even more unique. So, what does she do and how everything started?
Liisa has spent the first years of her career in the USA and has a double Bachelor's degree in Biochemistry and Spanish from Bowdoin College. Moreover, she has experience from teaching Chemistry and Physics at boarding school before she fully immersed herself into research. While doing teaching at the boarding school, she realized that she missed science and wanted to come back to Europe. Liisa was really interested in research in the area of the origins of life but ended up doing her Master's research at the newly established lab of Professor Florian Hollfelder, who specialized in directed evolution at University of Cambridge.
"I was really into the research of origin of life and thought that directed evolution is similar," Liisa says and laughs.
When she started, the lab was very new and not fully equipped yet, which gave her a chance to help to set it up. Liisa is happy about this experience.
"I learned a lot about managing a lab by doing this," she says.
When the Master's project was finished, Liisa continued at the same lab with her PhD. Following her PhD, she worked for a year as a business consultant at Accenture, where she worked at Shell and was responsible for finances and managing all of the Accenture projects. Despite the fact that the break from science gave a lot of new experience, Liisa once more realized that she missed it.
In the 2008, when economic crisis hit hard and Accenture faced difficulties, Liisa came back to the same lab at Cambridge where she had started. Her new responsibilities included work with new microfluidic systems, meaning that she had to learn these techniques at that time. Eventually Liisa got involved more and more into managing the lab and working on different projects with incoming students and post-docs.
She is working at the same lab today. Liisa has a lot of different responsibilities and activities. She not only still does research herself as well as supervises PhDs, but also is a network manager for two Marie Curie consortia. Besides these responsibilities, she is the cofounder of a company called Drop-Tech Ltd which is now selling a license to another company to make and sell a microfluidic droplet generating robot. This company is a result of a start-up grant Liisa was awarded 12 years ago to develop spin-out technology from the lab.
Other business-related activities are not completely gone from her life either as she is teaching and mentoring at Cambridge Judge Business School for about 10 years now.
Despite being very busy and working long hours, Liisa says she would not change anything in her career path and is very happy to be able to find a supportive and flexible boss.
"Flexibility is generally one of the best things about working in an academic environment. And it is very important to feel happy in your daily life and enjoy the work that you do as this takes most of your time in your life," she emphasizes.