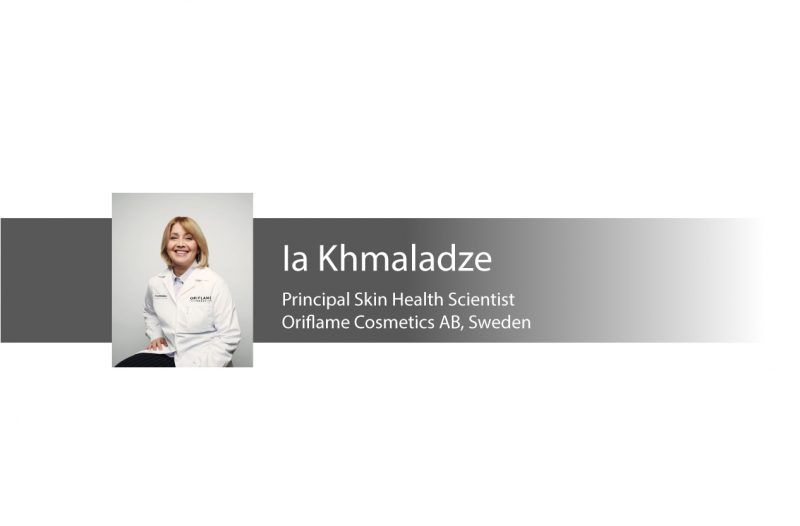 Curiosity: Bridging the gap between academia and industry – Career path of Ia Khmaladze
Name: Ia Khmaladze
Did PhD at: Department of Medical Biochemistry and Biophysics, Karolinska Institutet, Sweden
Current position: Principal Skin Health Scientist, Oriflame Cosmetics AB, Sweden
Interviewed and written by: Resti Rudjito
Ia Khmaladze, PhD is a principal scientist skin health at the Swedish-origin global beauty company Oriflame Cosmetics AB. Her curiosity in skin research has led her to venture from academia to cosmeceutical industry.
The world of skin research was known to Ia since she was a PhD student at KI. During her PhD, she developed a murine model of psoriasis and psoriatic arthritis disease. Realizing that skin biology was her passion in science and that her curiosity pushed her to dig deeper into the field of skin-associated inflammatory mechanism, she decided to continue as a postdoctoral fellow in Molecular Dermatology. Inspired by Prof. Mona Ståhle´s passion in skin related diseases, motivated her to stay in skin research, where she developed a further interest in skin health and aging mechanisms. Ia is now working with a group of expert researchers at Oriflame Skin Research Institute in Stockholm in discovering and developing active ingredients for healthier skin and to prevent premature skin aging for their consumers.
The wonder of cosmetic research
"Skin is a lot more than just to make us look presentable," Ia explained, "it is our body shield and body guard". A lot of consumers are often ignorant of the huge scientific research and clinical testing behind skin care products. R&D at Oriflame is operated by many experts ranging from raw materials, research and formulations, safety and global regulatory affairs. Ia's responsibility within the company falls into research in which active ingredients are subjected to rigorous pre-clinical tests on skin cells and tissues using in vitro, ex vivo assays and clinical tests in vivo using human subjects, before being incorporated into a product formulation. In addition, skincare products must cater to the consumer's skin type, age, ethnicity and gender. Skincare also needs to evolve alongside the ever-changing lifestyle of the consumers. Due to public awareness of how the environment affects skin health, Ia described how the demands of consumers now shifted to products that reduce impacts from environmental stress such as UV and pollution. Oriflame is now interested in applying a new holistic approach to skincare that will not only offer 'good looks' but also promote health by combining ingredients that are skin and gut microbiome friendly. "Feeling great from inside out is a basis of healthier aging," Ia clarified.
Transition from academia to industry
Ia's decision to change from academia to industry was based on the fact that work-life balance was difficult for her to achieve in academic settings. She admits that she is the type of person that can 'easily get lost into research' and needs a more organized work ethic to find an optimal work-life balance. Was it a wise decision? Her answer was an undoubtedly yes, as her current position at Oriflame allows her to stay within a similar research orientation and passion, but at the same time achieve a harmonized life-style.
She believes that 'having a PhD degree is much more than a deep knowledge in specific research field', all soft skills acquired during doctoral study such as project management, teamwork, networking, communication, writing and leadership skills are highly desired in many industries.
Thus, the key to a successful transition from academia to industry is how best we can boost our research expertise with these transferable skills.
Cultivating curiosity
When asked if Ia has any inside tips and tricks for PhD students considering to move into the industry, it was intriguing that her reply was 'never stop being curious.' Curiosity is what has led her to her position now and in her opinion, one of the sought-after character for a role like hers. Curiosity is written on the brains of every PhD students and our homework now is how best to utilize this when applying for jobs. She also challenges PhD students to try out our skills/or the skills we want to acquire in different industrial settings even if this meant exploring things that we dislike and won't do in the future.
The piece of advice that she continued to give which may give a positive outlook for graduating PhD students is that we shouldn't feel we should make a crucial lifetime decision by staying or leaving academia after graduation. Rather, make this a 'stepwise process' and relay on own passion and curiosity and eventually it will guide us to our light at the end of the tunnel.
---
Photo: Subject's own, used with subject's permission.
This career portrait was originally written for the PhD course "Career skills for scientists", organized every spring by KI Career Service. As explained in the introduction post, all participants in the course interviewed PhD holders with an academic or a non-academic career. Have a look in our Career Portrait category for more career paths. Get inspired and learn more about your options for your post-PhD career!
---