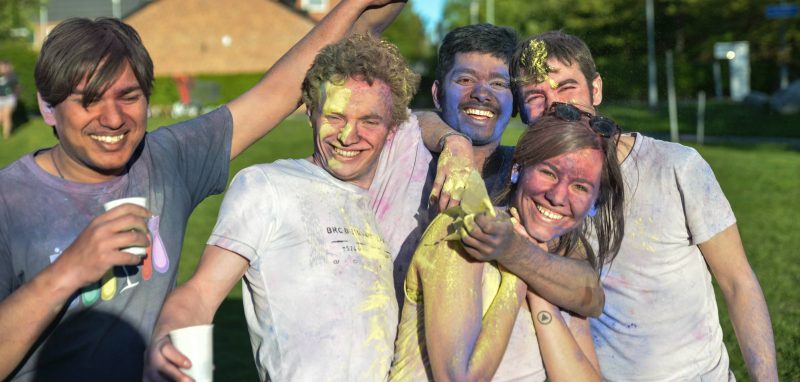 How to organize your own event at KI: a mini-guide
On the social side of things, one of my first surprises at KI was the great number of activities available for everyone on campus. In the photo above I was enjoying the Holi festival, a tradition from India that, like Valborg here in Sweden, celebrates the arrival of the spring season. This celebration was organized by Shahul Hameed, a PhD student who just wanted to bring some joy to his fellows – and ended up with more than 100 attendees almost every year from 2015 to 2018!
I afterwards realized that there are many events organized independently to what KI offers itself: from journal clubs and conferences to cultural events, career-oriented seminars and networking mingles. It was great to see that KI not only encouraged these activities, but also helped in promoting and, on occasions, even sponsored them.
You might have the same wish as Shahul, and an idea for an event – but how to make it happen? Where to find funds? Who to talk to? I looked for tips from some organizers of several events I have attended or helped organizing during my time at KI. I hope this post can serve as a mini-guide to help others take the lead in the future!
| | | | | | | |
| --- | --- | --- | --- | --- | --- | --- |
| Sandra Petrus-Reurer* | David Grommisch | Simona Hankeová | Gonçalo Brito* | Shahul Hameed* | Katharina Schellhaus | Alba Corman |
| | | | | | | |
| Moving Across – where art meets science | Careers Beyond Academia Club at KI; winter conference | BYRS (Biomedicum Young Researchers Symposium) | From basic to clinics conference | Festival of Colors | KIPA – Careers Outside Academia 2020 | SciLifeLab Minisymposium 2019 |
The interviewees and their professional LinkedIn faces. Disclaimer: there was a big bias towards contacting my own friends – if you were part of the organizing committee of any of these events, bear in mind I did not actively decide to exclude you out! *KI Alumni.
Find support within KI
You have an idea for an event but wait – has this been done before? or is there anybody already planning something similar (and if so, when)? These are the first reasons our organizers gave to reach out to existing organizations within KI. Some of these include:
Don't forget to also talk to your immediate department's administration! The head of education, finances, the education officer… they could provide know-how as well as support in e.g invoicing, what can and can't be done on campus, advertising throughout e-mailing lists and screens, etc.
Buddy up!
It takes a village to organize an event.
"To me, it was important to gather motivated members, at both campuses, and with experience or interests in different areas such as logistics, arts, and design,)" Sandra explains. Beyond the eagerness of the team, David also points out the importance of finding people that share your vision and that you can rely on:
"There should be new people in any team, but it is good to have at least one person you trust to get perspective and honest feedback on your role within the team."
Time management and being able to delegate are key for surviving an event-organizing marathon: think of setting meetings with clear agendas and strive to finish them with equally clear (and assigned!) action points.
| | | | | |
| --- | --- | --- | --- | --- |
| | | | | |
| Slack | Canva | Draw.io | Miro | Keep |
| THE place for internal comms (or a very well run Trello board) | Not a designer? No problem | Easy workflows and diagrams | Collaborative board for brainstorming | Who am I without lists and notes? Nobody. |
A non-extensive list of my favorite apps for teams
A light purse is a heavy curse
The current pandemic might have restricted our freedom to roam, but for the sake of positivity, here something good to it: it made events widely accessible (within our privileged sphere), and most of the times, almost cost-free to organize. But if you, like me, dream of future on-site events, you will most likely need some cash. Luckily, there are sources of funding where you least expect it. Sandra considers she was very lucky –
"I was PhD representative at the Tissue and Motion Network (KI). I proposed my idea, and luckily the funding was generous enough to cover the whole event!"
Simona and Gonçalo were not that lucky though and had to look for sponsors outside KI. Some of their tips include taking advantage of your network: contact people that you know that work for industry, or just reach out to companies whose products you use at work.
"It is good to present them several sponsorship tiers: from including their logo on the material to granting them a stand with active participation. In general, it always helps to offer something in exchange".
Spread the word – appealingly!
Alba highlights something that is often underestimated: the image of your event is the key! Take your time to design your visual identity. Make use of Twitter to engage with the attendees (#MyConference2022) and share updated information. Once you have a recognizable image, use all channels available to get your audience! Beyond setting the usual bunch of social media accounts (Fb, LinkedIn, Twitter, Instagram) think of sending information of your event to the aforementioned organizations and to KI's official newsletters.
Some of these great events have been cancelled the last years (yes, is a plural there!) for obvious reasons. But there is a bright future ahead of us, and as I see many countries announcing future concerts and summer festivals, I also dream of the return of conferences and social events, with their real-life interactions, on these grounds. I hope I will be attending any of your events soon!