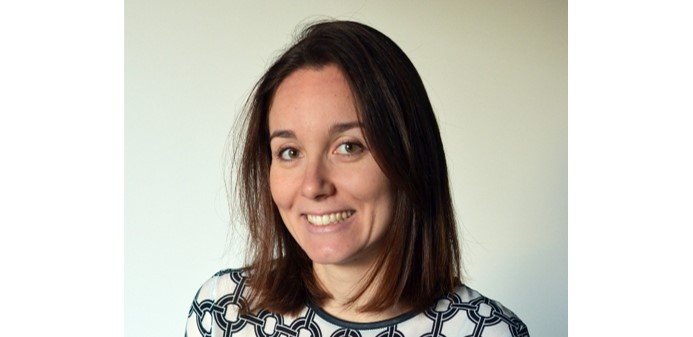 Science communication career: "INTERN-ING" HER CAREER AROUND
As a communications officer at Uppsala Monitoring Centre, Federica Santoro is an editor, a social media manager and a podcast producer. She also is the sole scientist in a team of communicators. The job is very diverse, including anything from reading and understanding scientific articles to marketing and PR, from purely administrative tasks to creative catchy writing. After a decade of working in biological research, it was a two month internship at a science podcast with two freelancing scientific journalists that completely turned her career around.
Federica Santoro was born in Italy, did her PhD in Austria and then moved to Sweden in 2014, where she started her postdoc at Karolinska Institutet. As I let her choose where to meet for dinner, her Italian roots shine through and we end up eating Neapolitan pizza as we discuss career changes from research into the field of communications.
CHANGING CAREER PATH
Federica worked for a decade with research in epigenetics, RNA, stem cells and cardiovascular biology, but it was the two month internship through her postdoc that ultimately landed her current job as a communications officer at Uppsala Monitoring Centre (UMC), breaking her way out of academia and on to her new career path. UMC is a non-profit organization working in the field of pharmacovigilance, the science of drug safety.
"I had the realization that I wanted to do something with communication sometime during my PhD, but it was very vague in my head and at the time I didn't even want to talk about alternative careers, as the mere thought of leaving research felt like a failure."
Her boyfriend was already waiting in Sweden and due to her uncertainty on where to go next, the easiest solution was to get a position as a postdoc.
"I knew for a long time that I didn't want to continue in research, but it's not easy to change country and career at the same time, so I settled for switching research field and hoped that this would make things better. When it came down to it though, I still did a lot of repetitive work in the lab."
Federica only actively started doing something to get her in the direction of her new career, about two years into her postdoc. Making a career change is a big step, but maybe not as big of a leap as it first seems, Federica realized.
"When listening to people who made a career change I usually find that they transferred into a field of something they really used to like to do but kind of forgot about. For me – when I was in school I loved reading and writing. Choosing what to study at university I was settled on biology, but there was a time when I was considering to study literature or history."
CONSIDERING CAREER OPTIONS
As Federica finally decided to take the step towards changing her career, she started out contacting people from her network that in any vague way were connected to the communications field, trying to pinpoint where she wanted to go with her career.
"I talked to people working in grants offices and as freelance journalists, medical writers, editors and teachers. I was on LinkedIn every day looking for people all the time. I've been shocked how many people agreed to meet me. Apparently everyone likes to talk about themselves!" she says, her words immediately followed by her contagious laughter.
She goes on explaining that she considered giving medical writing a try, but still wanted more variety than the job could offer. Becoming a journal editor was another option that brought other challenges – the geographical restriction due to most jobs being located in England and the US and also the work is very administrative with a fast pace.
INTERNSHIP THE KEY TO A NEW CAREER
As a postdoc, Federica landed an internship with a science podcast (RadioScience: http://www.radioscience.se/) run by two freelancing scientific journalists, through Karolinska Institutet's Career Service and got to try out this alternative career for two months.
"The internship was the most fun in my past 10 years and afterwards when I came back to the lab I just felt that I couldn't stay there any longer. I needed to get out!"
The internship made Federica realize that she wanted to pursue a career in communications and gained her the confidence to do so. She started looking determinedly for a way out of academia, but had trouble finding anything in Sweden that interested her, as many scientific writing and editing jobs are located elsewhere. She contacted many companies and organizations, even a life sciences marketing company, looking for a foot in somewhere. Whilst preparing job and internship applications, she was then contacted by a recruiter working for UMC who asked if she was interested in a job as communications officer.
"So this recruiter called me out of the blue and asked if I was interested and I was like YES!"
Federica's bubbling laughter fills the restaurant as she continues:
"I was recommended for the job through my connections from the internship. After the interview my prospective employer was only interested in talking to my references from those two months and not to anyone from my scientific career, which makes sense I guess."
Well, what a difference two months make.
WORKING AS A COMMUNICATIONS OFFICER
Working in a communications office can be very different depending on where you work. Some people work solely with social media and others are pure writers. Federica is an editor for a magazine that is published 3 times per year and also produces the newly launched UMC podcast (https://www.who-umc.org/blog/categories/Podcast).
"I contribute ideas on what to write about in the magazine, commission the articles, edit texts, make sure deadlines are held and other administrative tasks. I also talk to the graphic designers and explain the articles to them so that they understand the content and can come up with illustrations."
Additionally she also is managing the social media channels for UMC, posting on Facebook and LinkedIn once per day and on Twitter several times per day.
"I need to look for content and find things to share: papers in pharmacovigilance, news about drug safety and so on. There is a bit of PR as well; promoting our publications and products, trying to get people to look at them. Interacting with people on social media, replying to comments and making sure that everything is in proper order is also important. I start every day by checking all of the social media channels."
Besides her work as an editor, social media manager and podcast producer, Federica also helps her colleagues in additional projects. When we meet, their team is working with medicines agencies around Europe on a social media awareness campaign about the importance of reporting side effects of medicines, where they need translations into 20 different languages.
"There often are various projects like this going on for a couple of weeks and then being switched out for something else. The job is very varied, it's fun! One week I'm editing articles for the magazine, another week there is more focus on social media and I'm spending a lot of time on the internet reading stuff."
Federica is the first scientist working at the communications office at UMC, all of her colleagues have a background in communications.
"We learn from each other, I give them input on scientific matters but I learn a lot from them that I would never have thought about myself; there are so many factors to consider when communicating to an audience. My colleagues know how people work and how people listen, many scientists just overload their audience with information and think that's fine."
LABORATORY VS COMMUNICATIONS OFFICE
As a scientist moving in to communications you will step outside your comfort zone and work together with people with a completely different background, which could be challenging but also very rewarding.
"In the beginning I felt a bit like the outsider and the first two weeks I thought, 'What am I doing? What did I get myself into?' But it's fun and I love it!"
Federica's contract that at first was temporary has recently been extended and for the time being she is happy staying at UMC.
"Here we all have our own thing but compared to the lab there are a lot more intersections and for some projects we work together. Another major difference is that we have deadlines all the time, it's almost like when you need to finish up a paper, but every week! In my case I managed to keep the international atmosphere from the lab, which I would have otherwise missed, but that will depend on the workplace."
As the restaurant is about to close, we pack up and leave before being thrown out head first. We end up continuing our conversation during a walk along the water out towards Djurgården and back and it feels like I'm out walking with an old friend of mine. I feel excited thinking about a potential career as a science communicator in a company or an organization, it sounds so much fun and I like the idea of a job with such variety. Working as a communications officer would definitely include creativity and social interactions, just what I was missing in the job as a medical writer. On the other hand, there would be less direct use for my scientific skills and I would basically transfer into a completely different field. Is that what I want?
As I learned, working as a scientific communicator could also be very different depending on the workplace, so considering a career in this direction would require careful thought as to where to look for jobs. In true scientific spirit, I conclude that this line of career requires further investigations and I will expand my views on science communicator careers in future blog posts.
Leave a comment below if you have any thoughts about this blog post, career transitions in general, or any ideas for other careers in science communication that you would like to hear more about.